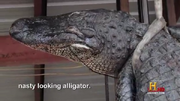 "This is the real King of the Swamp right here'"
–Troy
"
The Godfather
" is a large and old
Alligator
hunted by
Troy
and
Clint
in "
Gator Gold Rush
". It was notable for its black skin due to old age (claimed to be over 100 years). The gator lived around homes for many years, including Clint's. At first, the Godfather would not take the
Chicken
, so Troy decided to get
Asian Carp
instead. After many gators, the duo find the Godfather on a nearly broken line. They were able to shoot it fast; however, it came back to life. Another shot killed it for good.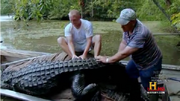 Although it was the featured alligator in "Gator Gold Rush", Liz got an even longer and heavier alligator in the same episode.