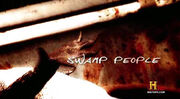 "No Guts, No Gator'"
–Tagline used primarily in Season 3
Swamp People is a hit History Channel documentary/reality show. The series debuted on History on August 22, 2010. The show follows the day-to-day activities for several Cajuns living in the Atchafalaya River Basin Swamp in Louisiana, USA who hunt American Alligators for a living.
The show has finished the third season, which premiered on February 9, 2012 with "Gator Gold Rush" and ended on July 12, 2012 with "Endgame".
Main article: List of Episodes
Other Media
Edit
Main article: Angry Swamp
Main article: The Swamp People Game
Due to the popularity of the show, there has been two apps made for Swamp People. First was Angry Swamp, a game based on Swamp People featuring Troy Landry. Secondly was an official Swamp People App, known as The Swamp People Game, a game which puts the player in the role of the alligator hunter.