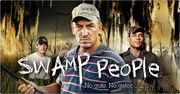 "No Guts, No Gator'"
–Season 3 Tagline
Season 3 is the third season of Swamp People. It began on February 9, 2012 with "Gator Gold Rush". It ended with 22 episodes with "Endgame" which aired on July 12, 2012. Episodes ran on Thursdays at 9PM EST (8PM Central), an hour earlier from Season 2.
The seasons tagline, "No Guts, No Gator", was an episode in the season.
Ad blocker interference detected!
Wikia is a free-to-use site that makes money from advertising. We have a modified experience for viewers using ad blockers

Wikia is not accessible if you've made further modifications. Remove the custom ad blocker rule(s) and the page will load as expected.