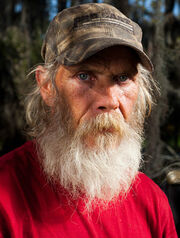 Mitchell Guist was a Cajun and the former brother of Glenn Guist. Like his brother, he was raised on the swamp, and they relied on hunting to catch their next meal. Glenn and Mitchell, although they did not hunt alligators, they were featured as showing different aspects of Cajun culture.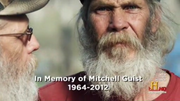 On May 14, 2012, Mitchell Guist passed away after having a seizure and falling while loading a boat near Belle River Landing. He was taken to the Teche Regional Medical Center in Morgan City, and there he was pronounced dead. An autopsy was conducted to find the cause[1], which determined he died of natural causes[2].
References
Edit
Ad blocker interference detected!
Wikia is a free-to-use site that makes money from advertising. We have a modified experience for viewers using ad blockers

Wikia is not accessible if you've made further modifications. Remove the custom ad blocker rule(s) and the page will load as expected.